Back for products
Choose from the following products:
AudaAudit
AudaAudit
AudaAudit is a module for automated control of defined rules compliance within  claim processing ( internally or with external partners like bodyshops, assessors..). All data from the calculation can be checked through AudaAudit (vehicle data, calculation results, spare parts data, workflow….)
Solution:
Ability to set multi-layered rules set
Assessments audited automatically in accordance with company guidelines
Activated automatically on communication event
Result of the check is visually displayed (icon, message, report), possible to drive workflow based on the check result
Benefits:
Easily customizable
All estimates, regardless of value, can be automatically checked
Estimates that have issues can be directed to an assessor
Assessors are directed to areas of concern
Ensures all contractual rules are met
Reduced repair cost
Improved cycle time and service levels
AudaExpress
AudaExpress
AudaExpress je modul pro jednoduchý a rychlý odhad nákladů na opravu malých škod na vozidlech určený pro call centra. Za pomoci souboru navádějících otázek provede pracovník call centra zadání rozsahu poškození pohledových dílů.
Řešení:
Výpočet orientační ceny opravy pro okamžitou likvidaci pojistných událostí pomocí souboru navádějících otázek po telefonu (skriptu), na základě kterých proběhne zadání poškození vozidla (pohledový díly) a následně výpočet nákladů na opravu podle pojišťovnou nastavených pravidel
Určeno pro operátory call center
Výhody:
Umožňuje rychlou likvidaci pojistných událostí na call centrech (procesní úspory, úspory na výplatách pojistných událostí rozpočtem)
Nevyžaduje technickou zdatnost uživatele
Konfigurovatelné řešení na úrovni zákazníka, umožňuje odevzdat případ do standardního procesu likvidace pojistných událostí v AudaPadWebu
AudaFlow
AudaFlow
AudaFlow is a module for exchange of structured data between authorized parties in the claim on the AudaNet platform.
Solution:
Cooperation with repairer on the basis of the reliable online platform with high-level control of the process and cost of repairs
Ability to define complex workflows using business rules
Logging of all events and actions
Benefits:
Time savings, process and claim severity cost reduction
Electronic communication with repairers
Ability to exchange messages and documents between parties
Documentation categorisation
On-line monitoring of the cases
High transparency of the process
Repairer cooperation Management Information System
Controlling of the SLA
AudaGlass
AudaGlass is costing system for fast and accurate calculation of the cost of replacing or repairing windows on vehicles.
Its database contains personal and commercial trucks and buses. Audatex company works closely with vehicle manufacturers and their official importers and with suppliers of alternative parts – glass on vehicles in the Czech Republic.
The prices of spare parts in our database regularly updated by the current price list, we collect directly from them. The system does not use graphic templates, but only works with parts that are related to glass replacement. The selected glass into the calculations automatically adds the repair kit, mounting materials, labor and possibly sensor or the sensor gel. If the vehicle is not in the list of vehicles AudaGlassu, so there is the possibility of so-called "phantom" calculation.
From the list, select the vehicle is technologically comparable parameters that are on offer and the relevant part of the program, enter information about the vehicle in which you want to replace the glass. Calculate the cost of repair or replacement glass will depend on your chosen vehicle.
If necessary, it is possible to calculate the cost to repair the glass. The resulting calculation is then based on the number specified damage.
The most important advantages of AudaGlass:
Rapid and accurate calculation of the exchange front, side or rear window.
Vehicle identification – not only through the glass VIN, but also by the Eurocode original part number.
Labor and material for glass replacement by the manufacturer or a flat rate or by setting the organization.
Automatic control calculations (the "Technical Report") with a set of questions and answers.
Electronic communication with insurance companies and services in real time.
Ability to view history of damage and Statistics counted damage to the vehicles.
Overview of your counted damage to the vehicle.
Option to set their own conditions of the subject (hourly rate, discounts, etc.).
Ability to generate invoices directly from the system (for services that do not have their own billing system) event. Interface to DMS (Dealer Management System).
On-line solution: no installation, automatic updates, and the program is essentially continuously.
Access to unique databases of glass under favorable conditions: the original glass, and their numbers, etc.
AudaInspect
AudaInspect
AudaInsect (Electronic inspection) is a module supporting paperless inspection process directly from AudaPad.
Solution
Entering inspection data to the electronic form
enable damage capturing in the vehicle graphics
Output is in the form of protocol (supporting signature)
Support of hybrid online/offline mode

Configurable automatic dispatching extension
Benefits
Paperless process – more efficiency and less errors
Right first time estimating reduces supplementary estimates
Total loss decision support on the spot
Integration in the workflow and internal communication
AudaMobile
AudaMobile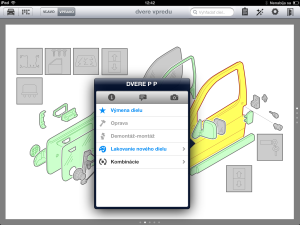 AudaMobile is an application for tablet devices providing access to platform services providing case management, vehicle identification, damage capturing, imaging and estimatic calculation services.
Solution
AudaMobile is designed for the newest tablet devices available for OS: iOS, Android and Win8. Tablet devices contain e-mil, GPS and camera in one and enable cost savings on HW.
Feature of "Matching" pictures directly to spare parts  eliminates manual process of photo-documentation transfer
Compatibility – Data from AudaMobile are compatible with AudaPadWeb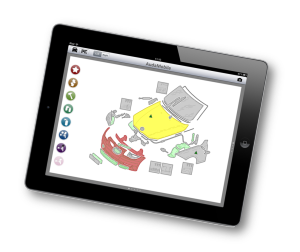 Benefits
It is very simple to get AudaMobile. In "App Store" or  "GooglePlay" look up "audamobile" and install the application by finger touch. Update of new version will be provided automatically without user´s assistance.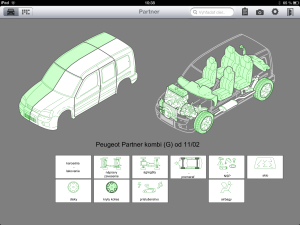 AudaPad
AudaPad
AudaPad is a vehicle damage assessment and claims management solution which underpins the process for all insurers and most of bodyshops in Slovakia and Czech Republic. Estimates are provided for the exact vehicle extra equipment included.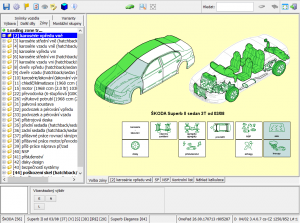 Solution
Market leading data coverage
Manufacturer's part numbers & prices
Graphical display of components for easy identification & selection
Repair and painting methodology
Online and offline capability
Structured data transmission
Benefits
Centralised assignment and management of assessor work
Effective, efficient and accurate calculation of full repair costs
Drives Management Information
Reduced time researching repair methods
Improved assessor and estimator productivity
Accurate consistent local parts pricing
Ability to add images
Interactive graphics available
Updates
Database for AudaPad solution is constantly updated and supplemented by new vehicles.  It contains currently 1388 models and more than 20000 sub-models from 59 manufacturers, 22 UNITYPS included. Update is provided automatically 12 times a year without user assistance.
Services  relevant to AudaPad
AudaPad+
AudaPad+
AudaPad+ is enhanced version of AudaPad. 3D graphics and AudaIRE are parts of this service. AudaIRE allows you to use intelligent estimation by using AZT methodology.  User only identify damaged  area of the vehicle and defines repair difficulty. Then the system is able to count the time of the repair.

Solution
Market leading data coverage
Manufacturer's part numbers & prices
Graphical display of components for easy identification & selection
Repair and painting methodology
Online and offline capability
Structured data transmission
Benefits
Centralised assignment and management of assessor work
Effective, efficient and accurate calculation of full repair costs
Drives Management Information
Reduced time researching repair methods
Improved assessor and estimator productivity
Accurate consistent local parts pricing
Ability to add images
Interactive graphics available
AudaPDF
AudaPDF is a simple tool that allows you to convert costing system AudaPad in PDF format.
This transferred the calculation can easily be sent by electronic mail, and also prevent tampering with its contents. To work with PDF files require Adobe Acrobat Reader.
For whom is the program designed AudaPDF??
AudaPDF is intended for all users of the system AudaPad and these are provided free of charge!
Quickly. Simply. safely
AudaSalvage
Our company late last year launched a new service designed primarily for insurance companies, dealers and garages wrecks. It is an online platform AudaSalvage to which insurance companies demand placed on the purchase of cars, which for reasons of inefficiency repairs fall into the category of "total loss".
Authorized dealers – they are mostly traders wrecks and used vehicles, dealers of used spare parts or scrap metal dealers and service stations – AudaSalvage placed in their bids.
After the auction insurance company selects the winning bid and the corresponding bid shall apply to claims settlement as "residual price". The actual implementation of trade is then subject to agreement between the owner and dealer vehicle wreck.
The benefit for insurance is quick and objective determination of prices remains low administrative costs.For traders, then the auction is a faster way to shipwrecks, availability 24 hours a day and get more chances wrecks.
Platform is not open to the public and a range of partners from the ranks of the limited.
AudaSMR
AudaSMR
Modul na výpočet servisních prohlídkových nákladů a běžných mechanických prací
Řešení
Modul pracuje s informacemi výrobců vozidel v závislosti od zvoleného modelu a výbavy vozidla, poskytuje uživateli informace o množství provozních kapalin a popis pracovních úkonů
Při výpočtu nákladů servisních prohlídek může uživatel postupovat podle počtu najetých km a nebo dle délky provozu (dostupný i Longlife servis)
Rozsáhlá databáze evropských vozidel (přes 85%)
Výhody / Přínosy
Data a postupy výrobců v jedné databázi
Intuitivní systém s přehlednými výstupy
Přehledný "úkolovník" u každé SMR kalkulace
Audatex Calculation
Audatex is the most common system for calculating the cost of repairing damaged vehicles in the world. In the most advanced automobile "countries used car repairs, insurance experts and excellent quality Audatex.
The advantage for you is that you can accurately calculate the cost of repair of a particular vehicle and not just a fictional type! Audatex knows all produced variants, which may be in one type of hundreds!
You will always calculate correctly with regard to the variant of the vehicle equipment. Design specific vehicle and special equipment can have a significant influence on the difficulty and cost of repairs (eg different prices for spare parts).
Calculated at Audatex vehicle is accurately described already at record damage. This will provide a detailed basis for calculating the optimum. The clear choice of options makes this process seamless.
Damage is recorded directly in the graphical representation of the vehicle on the PC, laptop or mobile tablet. Unique graphics Audatex provides a precise definition of the vehicle and its affects all the details and the details of equipments. To forget anything, nothing confusing.
Audatex is the mirror repair instructions from the manufacturers, so the work is described exact texts from manufacturers including numbers of jobs. Only in this way can be comparable and verifiable calculation.
Unbeatable logic corrections from Audatex ensure that the account of the work involved. Also, duplicate repairs are eliminated. If it is however necessary, may also be awarded additional positions. The program simply thinks and works for you!
Calculation of Audatex are so precise that "branded" repair all major manufacturers like to use this system. It is easier to work with than Audatex use information from the manufacturer or importer. Individual graphics Audatex provides the highest accuracy. A for "unbranded" repair is to use information from Audatex even greater.
In addition to the current price of spare parts are available and also a number of his original text by the manufacturer. This eases the ordering of spare parts and provides control. Price part without numbers is rampant.
AudaUpdate
AudaUpdate the system to automatically update the data and programs from Audatex via the Internet.
Through the Internet also makes sending statistics and thus relieves the user concern with generating and sending statistical disks. Compared update CD, which are sent every two months, allows the system to be updated whenever a new version of the data or programs. Thus, even several times a month. Therefore, ensure that you are always working with the latest data and software company Audatex.
How does AudaUpdate?
On our web site we put the update files to update our data and programs. Program AudaUpdate Client that is installed on the customer's computer, through the Internet for this update server periodically connects, sends him on statistics and determines whether to reside in the new update files. These new files are downloaded to the client computer and the process of updating data and programs. The volume of downloaded update files can be counted in tens of megabytes. In the case that in one branch and the local network is more AudaUpdate clients are downloaded to the same files repeatedly, and there would be a congestion Internet connection. In this case, we recommend customers to set up and install a local area network AudaSync server.
AudaSync server is one of the tools of AudaUpdate. Its task is to synchronize content server containing update server Audatex. Transferring files over the Internet will therefore be made only once at AudaSync server installed at the customer.
AudaUpdate clients local network then just get the update files from the server. Updating from a local network is much faster and does not overload your Internet connection.
AudaVin
AudaVIN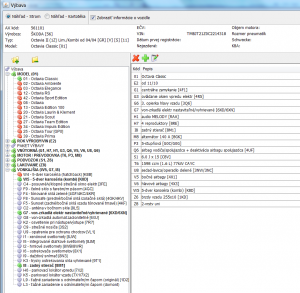 AudaVIN is a unique, automated vehicle identification service  for exact identification of vehicle and factory fitted equipment at the time of manufacture based on VIN. AudaVIN service is integrated into the AudaPad estimation system.
Solution
Model selection and factory fitted options from the vehicle manufacturer's Vehicle Identification Number (VIN)
Current coverage over 70% of the car park in Slovakia
Benefits
Right first time estimating
Correct parts identification & pricing
Reduced manual look up time
Reduced No of frauds from claiming unfitted or untrued car´s equipment
Improved productivity for assessors and estimators
Reduced supplementary estimates
Improved cycle time
Improved customer service levels
Database
Currently available brands: VW ,Audi, Škoda, Mercedes-Benz, BMW, Mini, Smart, Jaguar, Seat, Mitsubishi, MAN, Fiat, Alfa Romeo, Ford, Porsche, Opel, Citroën, Dacia, Land Rover, Lexus, Peugeot, Renault, Toyota, Volvo, Lancia. For more information please clik on Vehicles .
AutoOnline
AUTOonline

Mezinárodní internetová aukce havarovaných a fleetových vozidel AUTOonline
Řešení:
Internetová platforma nabízející službu pro obchodníky s havarovanými vozidly, autoopravny, na niž pojišťovny umísťují nabídky na odkoupení poškozených vozidel, které z důvodu nehospodárnosti jejich opravy spadají do kategorie tzv. "totálních škod".
Internetová platforma nabízející službu pro obchodníky s ojetými vozidly, autoopravny, na niž společnosti umísťují nabídky na odkoupení fleetových ojetých vozidel.
Po ukončení aukce pojišťovna vybírá vítěznou nabídku a odpovídající nabídnutou částku použije pro likvidaci pojistné události jako "cenu zbytků". Vlastní realizace obchodu je potom věcí dohody mezi majitelem vraku vozidla a obchodníkem.
Výhody:
Rychlé a objektivní stanovení hodnoty zbytků s nízkými administrativními náklady pro pojišťovny
Platforma není přístupná veřejnosti – okruh partnerů je omezen
Mezinárodní platforma umožňující získat vyšší hodnotu zbytků vozidel
Obchodníci mají přístup na mezinárodní trh a možnost získat vozidla v zahraničí
Dostupnost platformy 24 hodin denně
Rychlejší cesta k vrakům pro obchodníky a větší šance vraky získat
Průměrně 20 nabídek na 1 vozidlo
Dosahujeme reálnou odkupní cenu, která přesahuje 50% obvyklé ceny vozidel bezprostředně před poškozením
Zaměřujeme se i na méně frekventované skupiny vozidel – speciálně na nákladní vozidla, přívěsy, návěsy a přípojná vozidla, stavební stroje, motorky a čtyřkolky, a jiné..
Pro další info klikněte prosím sem.